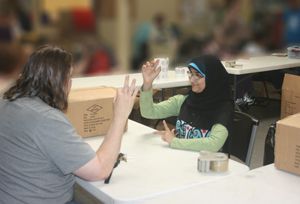 Vocational Training Centers
VITAL Services has two vocational centers. These centers provide individuals the work skills necessary to gain placement in community employment. Skills learned at these centers include:
1) Detailed, orientated work.
2) A strong work ethic.
3) And a degree of professionalism in which to pursue community employment.
Different contract work the vocational centers are now providing for our community consist of:
Nature's Variety: Individuals re-label packaged pet food with Spanish labels so Nature's Variety can export them to Mexico and Columbia.
Aramark Uniform Services: Individuals sort and recycle hangers which are then repackaged and returned to Aramark to be used.
Quality Resource Group: Persons assemble advertising, folders, and any added assembly work that is needed.
Oriental Trading Company: VITAL Services currently works with Oriental Trading Company in Omaha, Nebraska. The individuals we support work on an assembly line style of operation to complete the following;
Sorting/inserting items
Packaging/repackaging
Labeling
Heat sealing
In addition VITAL Services has an original decorative rubber mat business as an option for individuals.
The mat business consists of individuals constructing the mat, and assembling it onto a template. VITAL Services then goes to local trade shows, supermarkets, other retail outlets as well as the Farmer's Market in the Lincoln area. Persons are also given the opportunity to attend these functions and sell their mats. This allows individuals to have a positive community interaction, earn a wage, and improve their work and communication skills.
VTIAL Services has many vocational opportunities. We look forward to sharing these opportunities with you!